Thursday, 7th.May 2009
A day of chaos, changes of plan, and stress.
Nine-thirty at work and my mobile rings – it is Phil. He has been studying the weather sites and is horrified to discover that a deep low is to move into northern France next week and we will undoubtedly be subject to torrential rain and thunderstorms! A change of location is called for and all the plans we have made over the past few months for The River in Picardy are 'thrown out the window' literally hours before we are due to set off. This was a real block-buster of a change for me since we were now travelling several hours further south to the river Saone. What would be required however was more bait as Phil and his friends have learnt over the years that the more feed is put in – the more will be caught. I managed to get out of work in my lunch-hour and buy another twenty kilogrammes of halibut pellets from an out-of-town supplier. I hope this is going to be enough........
Saturday, 9th.May 2009
The River Saone, South East France
Breakfast Time
The drive down from Calais was very long and tedious. Because the ferry arrangements were timed to get us to the River in Picardy we did not arrive until early evening – only to discover everywhere was closed for the afternoon. By luck, the only premises open was a 'Peche Discount' where we were able to get our Carte de Peche so at least we were able to fish legally.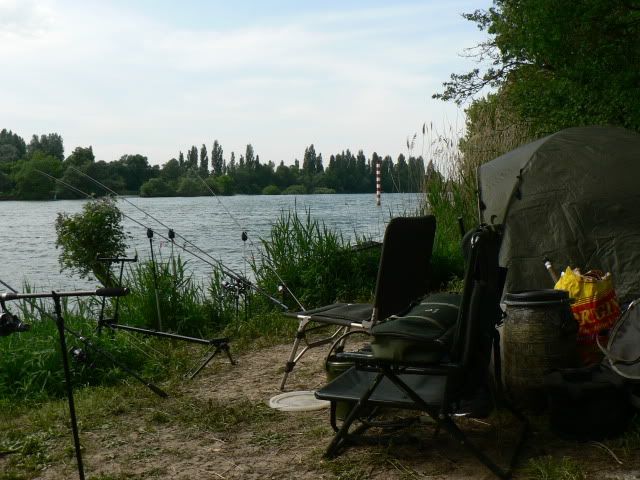 Down at the river, lots of locals were set up after carp and it was quite a difficult job finding a stretch of bank capable of accommodating all four of us – but eventually we were all installed, Gary and I fishing a 'double' swim, Phil, twenty-five yards downstream to our right, and Clive, another fifty yards further downstream.
It was a bit of a scramble setting up bivvies and introducing some bait – not to say an arduous process as Gary and I particularly were dog-tired and desperately in need of some rest. Philip however, keen to get underway was out in the boat after dark, distributing maize and boilies hither and yon, up and down the river in front of us. Knackered, Gary and I collapsed into pits, only to be roused by Phil who was quickly into action with four fish to 23 lb. Plus some unwanted Bream – all on single boilies. I stuck with a combination of boilies and pellets fished as doubles, entertaining several Bream to four pounds or so.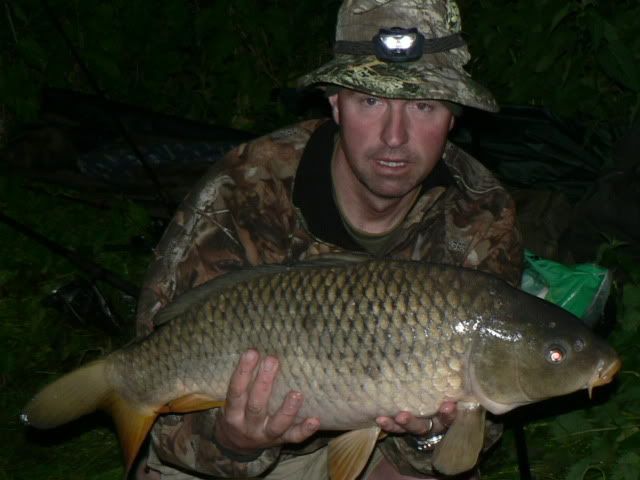 I've got to be honest and admit I just wanted to get my head down and recover from the journey – the real business of the trip being left until early morning.
Phil did some useful work with the echo-sounder, finding a wide variation in depths down to 20 feet. In front of Gary and myself there was a shallow margin which went right down to 14 feet – whereas to the right in front of Phil there was a very shallow plateau of 6 feet, plummeting down to 17 feet a couple of yards further out. Despite this being the major feature in Phil's swim, he picked all his fish up much further out in the river – which just goes to prove that fishing to 'features' is not all it's cracked up to be.
Dawn, we are up and about, re-organising and preparing for the day. Gary is mixing up a 'soup' of Vitalin, molasses, hemp, and anything else he can lay his hands on. This looks to be good carp food and will be a useful addition to the boilies and pellets we have already put out.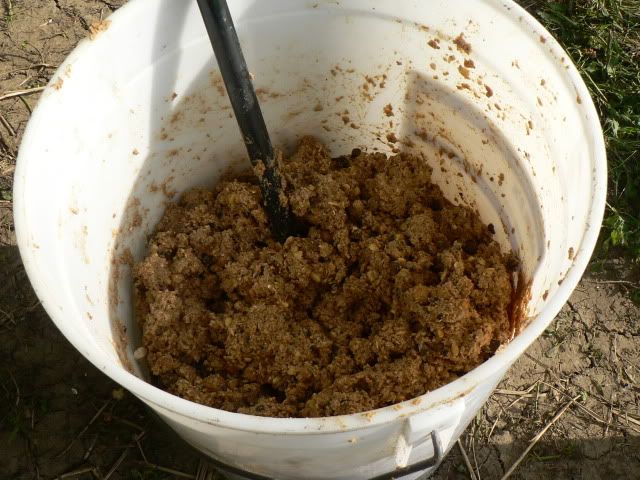 8.0a.m. - I have cut down to just 2 rods, both fished at forty yards range, both single boily; I may change this later to drilled 20 mm. Halibut Pellets which (unfortunately) the Bream seem to be very enamoured of. Confidence rising as fish 'lump' out of the water all over the place although things are quietening somewhat compared to last night. Expectant rather than hopeful.
10.45 a.m. - Phil and Gary have gone into town to stock the 'wine cellar' for tonight's barbeque and also to get more sacks of Vitalin to replenish our meagre stocks. We must feed these fish if good catches are to be made.
Phil advises that the carp on this river are notoriously nocturnal and although we may get one during daylight, the chances are much reduced. We will therefore make introductions of such feed as we have this evening for the anticipated night feeding spell.
Feeling a bit more 'into' it now; it always takes at least 24 hrs. to settle in, assess the situation, and make a plan accordingly.
12 Noon – a useful bit of equipment is a walkie-talkie radio. Clive calls me to say that burgers and onions are ready in his swim to eat if I care to come along and get them! Presently, Phil and Gary return from the town bearing Prawns, baguettes, cheeses, and beer to add to our repast!
4.00 p.m. - the previously sunny day now turns overcast with the threat of rain and an eerie quietness forebodes thunder. We hastily prepare for bad weather.
7.00 p.m. - Gary and I spend an interesting hour, bird-spotting, catching sight of a Cuckoo, Barn Owl, Goshawk, and what we suspect is a juvenile Eagle. Gary refers to his bird book (he has an extremely keen interest in birds of prey) and it is definitely nothing like any of the others in there.
Weather has turned fine again and the threat of thunderstorms has faded. Big bait-up with balled-in Vitalin, boilies and pellets of various types. It is clear we are well short of what is required to do well on 'The Mighty Saone'; it is such a shame we had no time to prepare for this venue properly.
8.00 p.m. - Gary picks his rod up to reel in and check the bait and out of the blue finds himself attached to a fish which screams off downstream, unstoppably! This fish roars off like a jet aeroplane straight downstream and Gary can only hold on and hope it eventually comes to a stop! Kiting in to the bank, the fish rubs the line on the steep bar in front of Phil's swim and the line parts like cotton. A sad loss.
We speculate on what the fish might have been – probably a catfish we had been sitting out there in front of the bait which when Gary started to reel in – made a grab for it and got hooked. Who knows?.......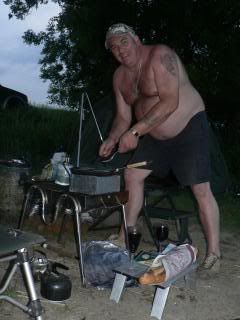 Sunday, 10th.May 2009
Up 'til late with the barbeque – what a night!
Sitting out with good friends drinking wine, grilling steaks, kebabs, and sausages. Tall stories and smelly farts, laughs, and a few regretful recollections. This was the french fishing experience at its best. Never mind what we'd caught or were going to catch, the whole ambience of the occasion was pure magic!
It started to rain as the last dregs of wine were being downed from the wine glasses and we all repaired to our pits to prepare for expected catches. The rain got heavier and heavier and a few claps of thunder were heard in the far distance. Batten down the hatches and hunker down.
Suddenly, the middle rod is away and a powerful fish is ripping line off the clutch! These river Saone carp are tremendous scrappers and have me all over the place. Eventually however, a fish of about thirteen pounds graces the net and I have my first look at a Saone common – long, slim, and built like a torpedo.
This proved to be my one and only fish of the night although Phil had another good common of 24 and Gary lost a tremendous fish which shot off downstream like an Exocet missile!
At last I drop off to sleep, exhausted.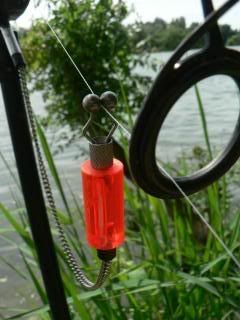 8.30a.m. - an early morning 'Council of War' between Phil, Gary, and myself. We decide Phil is catching more because he is fishing further out than either Gary or myself. Fish have been seen moving at longer range than we have been casting and we conclude we must get our baits further out. Because 5-6 ounce leads must be used to hold out in the current, the distance we are able to cast them is naturally restricted. By dropping down to 4 ounces a lot more distance can be achieved – the down-side of this of course is that we cannot hold out in the flow. Phil's answer to this is to use a back-lead to keep the line down to the bottom to reduce the pressure on it and when we try it, it works, giving us much needed yards in range.
Confidence rises again; the only issue we have yet to resolve is how to feed the stretch we are fishing. Phil is distributing Maize over a wide area in front of him and this is contributing greatly to his success. We don't have any and we have to make a plan with what we have – mostly Vitalin and Pellets...
Suddenly, we see Phil out in the boat making his way over to the far side of the river. He seems to be attached to a fish which has mysteriously run right across to the other side without him knowing. Sounds like he must have had a buzzer failure whilst he was in our swim talking to us.
Phil manages to make contact – the fish has swum into a tree island and he reports, has straightened the hook! Another 'One that Got Away' story!
2.00 p.m. - Gary and I spent the whole morning trying to come to terms with our situation. We knew we needed to be further out – where the fish were – but couldn't hold with the 5 ounces we had on. I put back leads on to try and keep the line low to the bed of the river but the only effect this had was to pull the lines down into snags which on reeling in I became irretrievably hung-up in. Phil went and got his boat and we went out to get above the obstruction. Horror of horrors – my mainline became entangled around the outboard propeller! A right old mess ensued and despite heaving mightily, the rig just wouldn't free itself until I gave one last hand-line haul and straightened the hook. Just as this came free, one of Phil's buzzers came to life and a rip-roaring take ensued! Line could be seen pouring off the reel and Phil went into panic mode trying to get back to the bank to get to his rod.
He picked up his rod and landing-net and jumped into the boat, my role now changing from that of passenger – to boatman. Now I have very little – to – no experience of handling an electric outboard motor and boat although I did my best to steer in the direction of the fish. Phil meanwhile worked himself into a right old lather, berating me to "no! Not that way – the other way!", and "faster – no, slower!......no, not like that!" Afterwards, he apologised for getting himself rather over-excited but at the time, his chastisement did nothing to improve my confidence or understanding of boat-handling technique!
We got the fish – a nineteen pound common, so the panic turned out to be a waste of energy with what was not the monster Phil thought it was !
Back at camp, Gary and I continued to wrestle with the problem of holding in the flow. Gary lent me a couple of six-ounce weights and currently I am trying to fish with these although the distance is a lot less than I would like and I still can't seem to hold. I decide to have a bit of feeder fishing and give the matter some thought.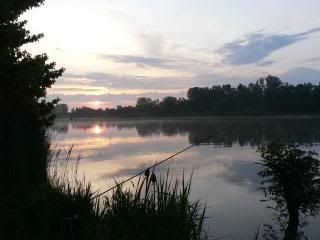 6.00 p.m. - things reached a bit of a crisis point this evening with all sorts of problems and difficulties casting an air of despondency over things. Gary had to go out in the boat to un-snag Clive's line and got the line caught around the prop. of the boat! This caused no-end of problems – not to say leaving Gary in a foul mood. The extra water in the river because of the rain leaves me struggling to hold bottom and I am just not happy with the short distance I am fishing – I am no-where near where the fish are. Phil suggests I up-sticks tomorrow and offers to take me across to the island where I can fish on my own.
10.30 p.m. - Gary and I had a really nice evening, eating baguettes, cheese, and bacon, and drinking an exceptional Cabernet Sauvignon. We discovered we have much in common in our backgrounds and life experiences. Later, we repair to Phil's camp for a four-way social and spend a very enjoyable couple of hours chatting and drinking wine. At the end of the proceedings, Phil gets a screamer on one of his rods and lands a fish of around twenty pounds. We are so relaxed we don't even bother to photograph the fish. It is enough to just enjoy the ambience of the place.
Monday, 11th.May 2009
2.0a.m. - High excitement in the dark......... Phil continues to catch fish – so many in fact he is on occasions down to just a single rod. We cogitate in his swim about what the reasons might be why he is catching so many and we catch nothing and decide that the only thing we can do is for me to imitate exactly the rig he is using. It is nothing secretive or fancy – just a simple running rig with a backstop. No fancy gizmos or do-dads on the end, just a simple knotless-knot to a longshank hook about 12 inches long. I hasten me back to my swim and tie this rig up and cast out. Phil calls me back to his swim for a cup of tea for he has landed yet another – he has now had so many he cannot remember just how many!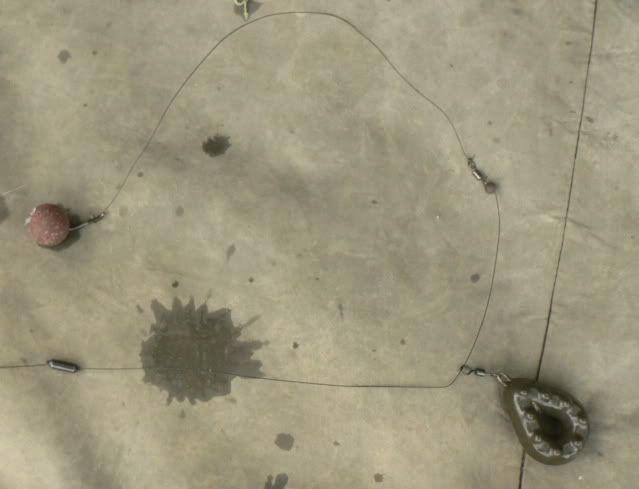 Ten minutes into the tea and suddenly my buzzer is screaming with a 'one-toner'. I run/hobble/limp/stumble back to my rods and the taking fish is going like a steam train! I lift into it and am hit with a series of terrific lunges – the fish is like a Lewis Hamilton with a rocket up its backside! It must have run a good forty-to fifty yards while I have been attached and is so far downstream it is well over Phil's lines.
inevitably, one of Phil's buzzers then goes off, signally an impending nightmare and he curses and swears at me for allowing the fish to cross his tackle! Back in his pitch he can now see the fish on the surface in the margin in front of him and is able to step into the boat and net it from there.
The fish turns out to be a magnificent common of 29 lb. - the biggest of the trip so far. Clearly however we are unable to all fish the stretch of river so close together and Phil resolves to move over to the island opposite, on the 'morrow.
5.00 a.m. - Fishing just a single rod (to avoid foul-ups with other anglers) the buzzer is screaming like a banshee again. As soon as I hook it, it absolutely flies downriver........ this fish goes like the Orient Express, a feature it seems to share with all the Saone fish. I can do nothing but hang on as the rod is thumped down in a series of frantic lunges. Eventually it comes to a stop and I make line on it all the way to the net – yet another common, this time weighing 28¼ lb. Magic......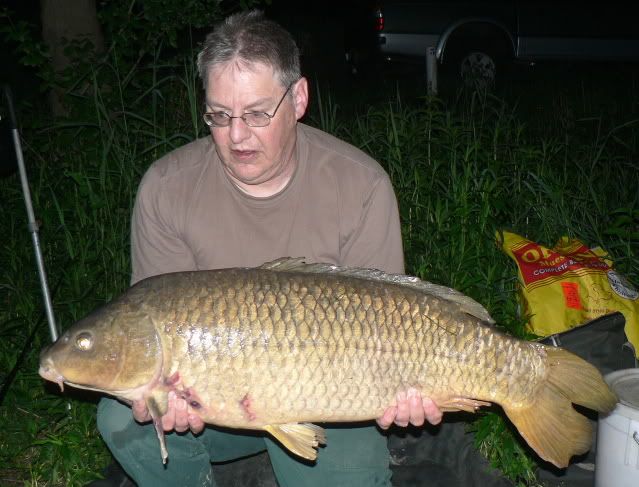 7.00 a.m. - I recast the rod and I doubt it had been out ten minutes before it was off again, this time the culprit being a little nine-pounder.
8.30a.m. - a fidgety take to my one and only rod out produces a small fish of 7 or 8 pounds. Rod is recast before the first of the commercial vessels comes through; this is a tandem jobby pushed along by a barge. The wash is tremendous, swamping the boat moored in the margins.
We have acquired a new friend – Eddie The Eagle who comes soaring along, high on the thermals. Gary has never seen an eagle in flight before and is as pleased as punch with all the birds of prey we have seen – Red Kites, Sparrowhawks, and Barn Owls.
12 Noon – while Clive and Phil go off to the shops, Gary and I spend the morning sitting in the sunshine, telling stories and watching the comings and goings of the eagles soaring on the thermals overhead. Gary is beside himself with pleasure as the birds of prey are as much an obsession with him as carp-fishing.
It has now turned hot and sunny although there is a cooling breeze to keep things refreshed. We contemplate the hard work of this afternoon's activities for we must prepare the feed for tonight.
8.00 p.m. - a day of activities. Gary and I went into town to get some provisions and try and buy some Maize for soaking tonight and boiling tomorrow. We realise the last minute change of venue has left us unprepared for this river. Fishing this particular one requires simply huge amounts of bait compared with the River in Picardy. Phil, who knows the Saone better than anyone asked us to bring as much bait as we could, but little did we realise the industrial measures which are required – dustbin size containers of Maize and Vitalin are just for starters! To witness Phil out in the boat, criss-crossing the river, throwing scoops of feed in all directions is not only an education but also a culture shock in comparison with the relatively meagre quantities used for 'normal' carp-fishing.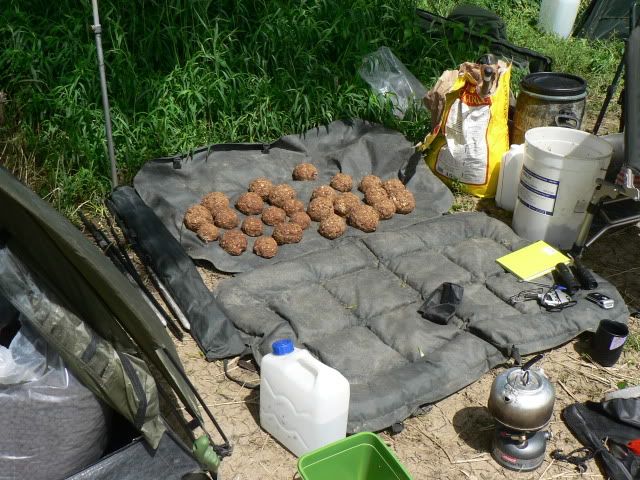 All this 'prepping' and hard work under what has been a hot sun has been exhausting and I long to just flop into my pit. I am so tired my eyes are stinging really painfully and are a sure-fire indication I desperately need to rest. This branch of carp-fishing is certainly not for the faint of heart or weak of limb. The more I get older, the harder it all seems to get.
Tuesday, 12th.May 2009
2.00 a.m. - a screamer is off and away, once again going like an express train. Unlike any of the other fish it ploughs upstream across one of Gary's lines causing consternation and strife. Eventually it is landed (after breaking Gary's landing net) and weighed at 15:06.
Meanwhile, Clive comes along the bank calling for the boat. Out on the island, Phil has hooked into a fish so large he cannot land it! Gary and I wait with baited breath to see just how big it is........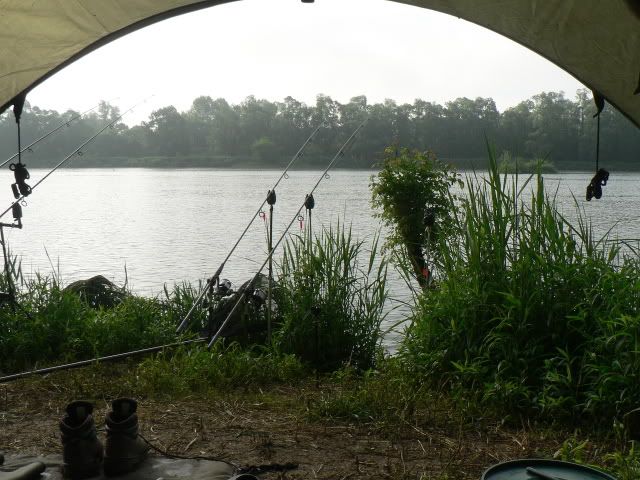 3.30 a.m. - a 13:12 common in identical fashion. I reeled in the other rod to have a sort out and yet again lost the lead and rig on a snag. This river is totally snag-ridden seemingly and an endless supply of leads is an absolute requirement. Really becoming sick and tired of this aspect of it though.
8.00 a.m. - another night of lost rigs and bad weather has left me in a depressed state – so bad in fact that I'd be quite happy to pack up and go home. Most of this demeanor however is probably due to the fact I have not taken my medication (anti-depressants) since I have been out here. This must obviously be remedied – I'll dig them out and take one. We are still catching carp and Phil must be 'over the moon' with his giant fish which turned out to be a catfish weighing a colossal 82 lbs.!
Gary is obviously disappointed with his relative lack of success and is in the advanced stages of 'writing the trip off'. We have both had lots of problems to deal with and this seems to be part and parcel of this sort of fishing. Our efforts have left us wearied and despondent and we both need good fish to give us a 'lift'. Because of the snags, the strong current, and the presence of Gary's rods in the swim I am down to just a single rod (which I have confidence in) provided the fish are there. Gary is struggling and I am concentrating on offering all the help I can in getting him on to a fish.
I don't think many anglers have the faintest idea of what is demanded to come down to France and fish the rivers. Even your average carp angler has no idea of the huge demands made on the individual to fish 'properly' under the conditions. Managed fisheries and certainly commercials (including french commercials) cater well for the angler in terms of facilities, comfortable swims, and managed stocking levels. Where we are here on the river Saone there is nothing provided by Man – we are in a totally wild environment. The plus side of this is the 'connection' with wild Planet Earth which is an inevitable result of such encounters – the wild life, the wild fish etc. the downside to this is that Mother Nature provides nothing in the way of comfort – no neatly cut, conveniently accessible swims, stocking levels managed to provide a good days sport, and close proximity to domestic needs. All the problems we have encountered on this trip are a natural result of connecting with the very thing we have come out here to enjoy – wild fishing.
12 Noon – spending the day cooking Maize for introduction into the river tonight. It is a ball-aching job and I could do without it – my thinking is that the pellets are a more usable and practical alternative. What is key is that it is
how
it is distributed into the river that makes all the difference. Up to now we have been putting out time-bombs (hard Vitalin balls) and other stuff in a line downstream.
In this situation, the scent trail and food source is a relatively thin 'corridor' travelling downstream with the current, whereas a line going across the river makes the trail wider.
As I'm cooking up this maize, I'm pondering the problem of distributing it across the river without the aid of a boat. I don't want one myself – I hate the damn things, they have a mind of their own and never seem to go in the direction you want them to. So how do you get enough feed in a line across the flow in sufficient quantities? The carp angler's mainstay is the spod for getting out this sort of mass bait which cannot be catapulted, and for still water situations this is a good option. What about the sort of industrial quantities we are talking about here though? A spod, though theoretically feasible cannot ever compete with the boat and scoop – it would take hours to reproduce the sorts of quantities we are talking. One alternative is to use the catapult and use something catapult-able such as pellet, tiger nuts, or Chic Peas. Tigers are very durable and are known fish catchers and could go a lot further than maize. Hmmmm..... it's a problem.
One solution might be to choose a location adjacent to a bridge; you use the bridge as an elevated platform from which to distribute the feed. This restricts you to downstream areas of bridges only, to places you might not want to fish.
6.00 p.m. - I have previously described the problems of toileting whilst away on these french trips and this afternoon I was once again called upon to move a stool. So remote is this location that there is no difficulty in finding a suitable spot – in this case, the bottom of a shallow gulley surrounded by trees. No sooner had I dropped my shorts than thousands of mosquitoes took to the air homing in on my nether parts, sinking their fangs (or whatever it is they use) into my bottom. I strained furiously with all I was worth, desperate to move the resistant stool, but no, it just wouldn't budge.......eventually, with the job half completed the squadrons arrived, stinging and biting every exposed inch of bum flesh! Ouch! Ouch! Ouch! Pain, strain, grh.......... then finally, a quick finale with the toilet paper and then it was up with the shorts and off and away! I didn't look back but I suspect I was pursued by a black mist of midges, teeth bared, baying for already-tasted blood!.......
Back at camp I had an opportunity to examine my tenderized posterior – it looked like I had contracted some dreadful disease – my skin was pock-marked with raised, white nodules which were now beginning to itch like Hell! To say this would be unpleasant in the warmth of the sleeping bag is an understatement; only those who have suffered the torment of itching mozzie-bites will appreciate the depth of the horrors such afflictions present!
6.45 p.m. - we manage to get a lot of maize, pellet, and tiger nuts out before a colossal barge comes through. Hopefully, the water movements caused by such a vessel will help to spread the feed out.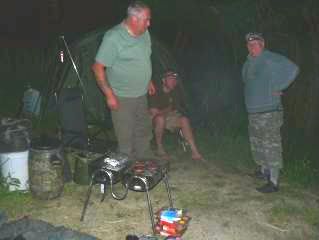 Wednesday, 13th.May 2009
8.00 a.m. - nothing to report from a night which was very quiet from a fishing point of view although ideal fishing weather – overcast, warm, and sultry. At one point it was so sultry, lightening rent the darkness and distant rumbles of thunder were heard.
This morning, Phil reports the back-channel is full of carp feasting on newly-cast spawn from masses of Bream, coursing in and out of the beds of lily-pads, their mating activities attracting large marauding catfish.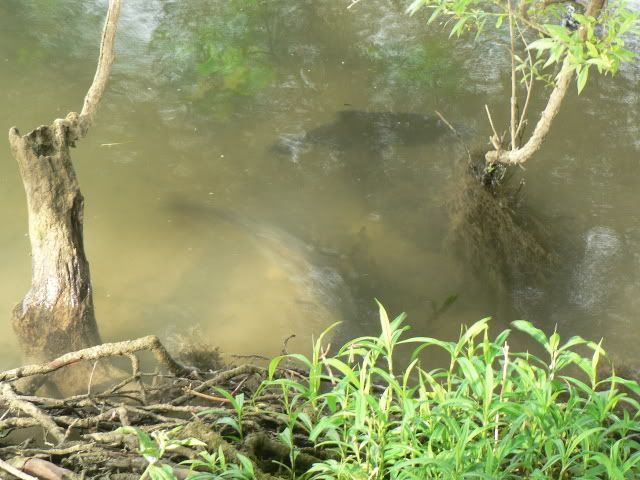 11.00 a.m. - just got back from the island. Clive and I went over in the boat to see all the activity that is going on over there; what a sight! Large Bream up to 6 or 7 pounds are like 'alpha-males' attacking smaller fish seek to join in the orgy – the large fish attack the smaller ones and drive them away; whether this is to guard the fertilized eggs that have been lain to prevent other fish from eating them I don't know – but there is definitely some sort of Bream-on-Bream antagonism going on. Chub also lurk around and these I suspect are intent on eating the eggs, but at the top of the food chain are the large catfish of four, five, and six feet long which slink along tight to the margins. Curiously, the Bream don't seem afraid of them. Whether they recognize somehow that the catfish are not in attack mode I don't know but the Bream are happy to swim with them and the catfish make no attempt to attack or eat them.
I tried to take some photographs of all this but the water was very coloured and the shots were disappointing. A key to our lack of carp action for the past couple of days was the sight of fish grouping in threes and fours. These fish were having what I call 'practise spawning', not so much getting on with it, but going through the motions of keeping close physical contact and engaging in vigorous shaking of their bodies in harmony with their sexual partners. For students of fish behaviour this was a fascinating and informative experience.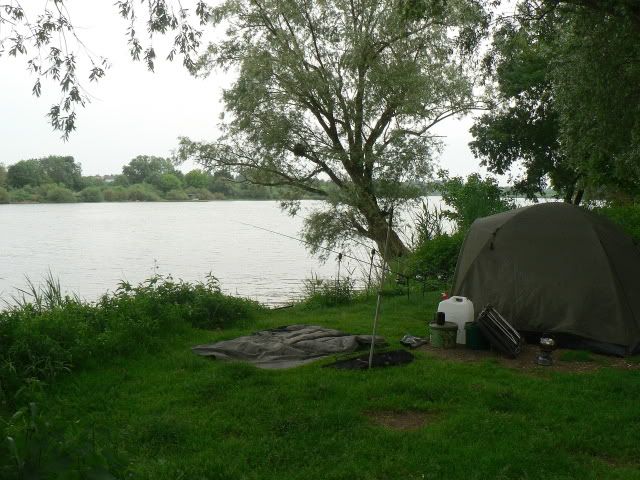 5.00 p.m. - decided to move and have settled in to a very nice swim about a quarter of a mile downstream of the others; although I am a long way away I have the walkie-talkie and can keep in touch. Just about to have a shower and a clean-up after the toil of taking down my dome, moving, and setting it up again.
Incidentally, I have now abandoned the 'Camp Shower' I have used previously on trips – a more effective and practical solution is to use the kettle with warmed water and just stand on the unhooking mat and pour it over the head; a good lather can be generated with the increased water and it is both cleaner, more practical, and takes up no room in the kit.
7.15 p.m. - baiting-wise, I have gone for the big hit, scattering 20 mm. Boilies, 20 mm. Halibut pellets, and 12 mm. Halibut pellets right across the front of the swim.
The current is peculiar; down at my feet the water seems to be moving upstream to my left – against 'the tide' as it were. I see I am on the beginning of a bend so I guess there may be some eddying going on somewhere.
The Buoys in the River. There is an orange one and a green one and heavy barges and the like must stay between them if they are to ensure they have enough depth below the keel if they are not to touch bottom. This I guess is about fifteen feet or so; they are a useful indicator of river depth however. Vessels must not stray bank-side of them so I think it safe to assume this is where the shallower water is.
The orange buoy upstream of me is some way out from the bank so I guess the water in front of me is relatively shallow; hence I deduce I am fishing in about 8-12 feet (compared to the centre channel which is 20 or so).
My current GPS is:
N **.*****° E *.******°
8.30 p.m. - a dropped take on the rh rod and some fish activity (albeit from small fish) has raised my confidence somewhat.
Thursday, 14th.May 2009, The Last Day
6.30 a.m. - very successful night and once again an endorsement for the scent-trail tactics. On the face of things, there didn't seem to be many fish here – certainly no outward signs of rolling or splashing fish. Into the evening and there's a dropped take on the bait fished to the tree. A funny take this – a running fish but a bit half-hearted in some respects.
A bit later and this time a 'proper' take ensues, although not the one-tone screamers I have now come to associate with the Saone carp. The fight from the fish although hard, was not protracted too long – fortunate this because it started to rain quite hard. In the dark however I could see the fish was not a carp but one of the Saone's famous catfish! My first one ever! I was delighted with this and got him up the bank and on the mat as quickly as I could.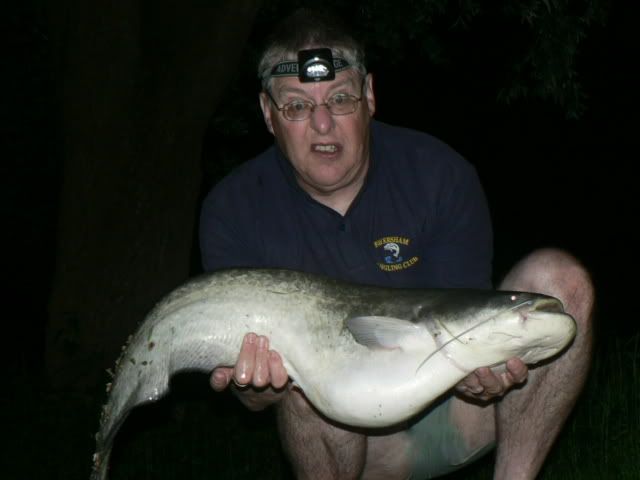 My first ever face-to-face encounter with a European Wels Catfish – like some primeval creature from the Black Lagoon, a throw-back, a monster from the Dark Age, baleful eyes and an ugly, sinister countenace. These are fish from pre-history and are the most foreboding looking blighters I have ever seen out of freshwater. Weighing just sixteen and three quarter pounds it was but a kitten, but for me, a quite memorable capture.
It was like a Tolkien-esque equivalent of a Balrog (read the book).
Back out with the bait and a series of tweaks and lifts indicated interst from fish and I had Bream and Roach/Bream hybrids on a number of fidgety takes. Then there followed a quiet spell resulting in a typical Saone screamer – a carp this time weighing 12 lbs. Back out with the bait and there was further interest (although not enough to strike at), followed by another carp take and this time the fish was off and away like a train in typical Saone fashion.. an intense but not protracted fight ensued resulting in a 22:12 fish – like all of the Saone fish I've had, another common.
Out with the bait yet again – to the same spot just in front of the orange buoy, and it's a further hybrid followed by another fish of 12:00. there was then another relatively quiet spell which ended with a fish of about eight pounds which gave a most Bream-like bite; no doubt due to the massive amount of feed I had put out. Still, another Saone carp under my belt ending a very profitable night.
8.30 – just done a big bait-up with boilies and pellets and it all seems to have gone quiet. Phil had a 30 and one other from his pitch on the island and Clive also had a fish or two. Poor Gary still struggled and only had one Chub I think plus, he lost 2 sets of gear picked up by a damn great 20 foot x 1 foot diameter tree, floating down in the current. Fortunately, Clive got his three sets of gear out of the water – but only just in time. Over the walkie-talkie network they warned me it was coming although being so far downstream it would take a while to get to me. I stayed up until nearly 1.00 a.m. Keeping a look-out for it but it never did arrive as far as I could see; I suspect it drifted out into the middle of the river.
10.00 a.m. - collecting all the non-essential pieces of kit together today; we have to load as much as we can in the truck tonight for we have an extremely early start tomorrow.
The Session Wine Choice
Very lucky with the wine choice this time, it is:
Cabernet Sauvignon, vin de Pays D'oc by Pierre Charnau, about eight Euros for a 5 l box; better still is the one costing nineteen Euros – absolutely superb. The cheaper one I had is still very drinkable; it is a tough, fruity wine – a man's wine!
1.00 p.m. - i've kept piling in the feed (boilies and pellets) and there is no doubt that the 'Ronnies and Reggies' are having a field day whittling the baits down. These baits have not been hardened by air-drying so it's not surprising.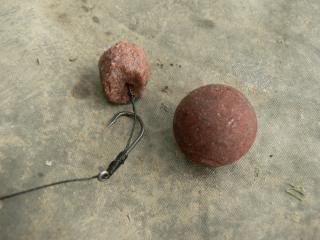 I've had one or two abortive snatches so I'm wondering whether there is so much bait out there now that the fish are eating it 'on the spot' without moving along the bottom. What I'm going to do is fish one back-stop long (about 12 ins.) and the other short (about 3 ins.) and see if there is a difference.
4.00 p.m. - people are beginning to converge on my swim for the farewell barbeque and sleep-over. Phil has moved off the island and has boated all his equipment down to my swim. He says he is just going to put up an overnighter and sleep, but I suspect he'll have a craft rod or two out!
Clive has gone into town to diesel-up and he too is moving up to my swim to do the night so that makes all of us gathered together for the final few hours.
5.00 p.m. - I've managed to get some 20 mm. Pellets into the boat channel (but only just) I think it would be sensible to fish one this side of the channel and one in, the boat channel tonight.
7.45 p.m. - the evening kicked off with Phil and Gary arriving and setting up their sleeping quarters for the night. I had withdrawn my third rod because there'rd be less to pack up in the morning because of the very early start, Phil however kept on and on about putting a bait out to the right – under the branches of an overhanging willow and I eventually gave in, re-instating the rod I had previously withdrawn.
Upstream, I scattered some freebies and set the rod in its rest, this rod had been out about ten minutes before the now familiar screamer ensued and a hard fighting common thrashed about in the lilies in the margin. Momentarily, the fish got stuck and I had to haul it a bit but eventually Phil put the net under another twenty-pound common – twenty-two dead.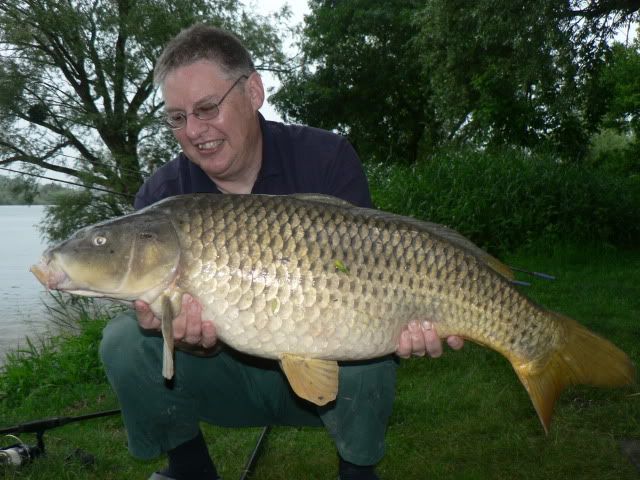 Friday, 15th.May 2009 – Departure Day
The planned farewell barbeque in my swim didn't happen unfortunately because incessant and persistent rain had begun to fall, it didn't however prevent a communal cook-up and wine-tasting session among the part and the occasion was no less enjoyable.
My scattering of 12 mm. Halibut pellets up and down the margin had unfortunately attracted a shoal of Roach/Bream hybrids which were making a thorough nuisance of themselves, the bobbins bouncing up and down and the buzzers going off at frequent intervals. They were an especial nuisance to Philip who was intent on a good night's sleep for the long journey home and he less than politely invited me to "shut those f******s up!" why yes Philip, I could perhaps invite them to partake of something tasty elsewhere?
The night was very unpleasant, cold, and wet; just before dawn however the bait placed under the tree to my right (where I'd had the previous fish) was picked up and an identical fight ensued, culminating in the landing of an 18:12 common. This turned out to be the last fish of the trip; I withdrew all rods as Phil needed to sleep and I hunkered down, waiting for 5.00 a.m. A wet pack-up, and off to Calais.......