Saturday, February 23, 2008
February has been a very up and down month weather-wise and earlier in the week we had a series of very hard frosts which would have killed the fishing stone-dead just about everywhere.
It had been a very long time since I last fished Hartleylands and I was keen to get over there to see what I could do with my new waggler techniques; I had also got some of the new porcupine quill floats I had bought off eBay and turned into waggler floats and wanted to try them out.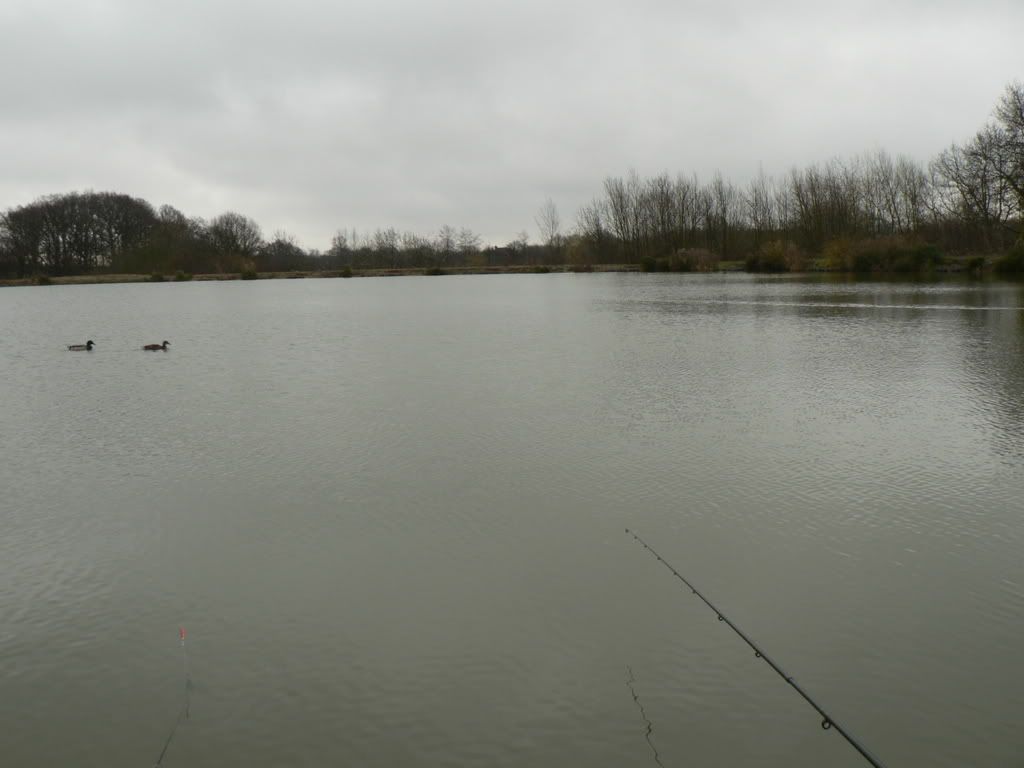 I was the only one there when I arrived and was pleased to see that not an awful lot had changed about the place. Instead of the wooden platforms in the pegs however, there were plain dug-outs with chippings, a much nicer and more 'natural' way to create a swim from which to fish and I chose one half way along the left-hand bank. This was not an absolutely ideal choice as there was a troublesome wind blowing right to left which made casting difficult with the waggler rig – but I coped.
As usual, I had a cunning plan. To cope with the deep water, I had a special rig made up on a spare rod. This rig comprised a three-eigths ounce bomb, a split-shot a foot up, and a 'Polaris' float up the line. The purpose of this rig was to 'fix' the depth of the water where I was fishing so I could set the depth of my waggler rig accurately, relative to the actual depth of the water. This arrangement did exactly what it said on the tin and worked like a charm and I shall certainly use it as a depth-finding rig when next, need arises.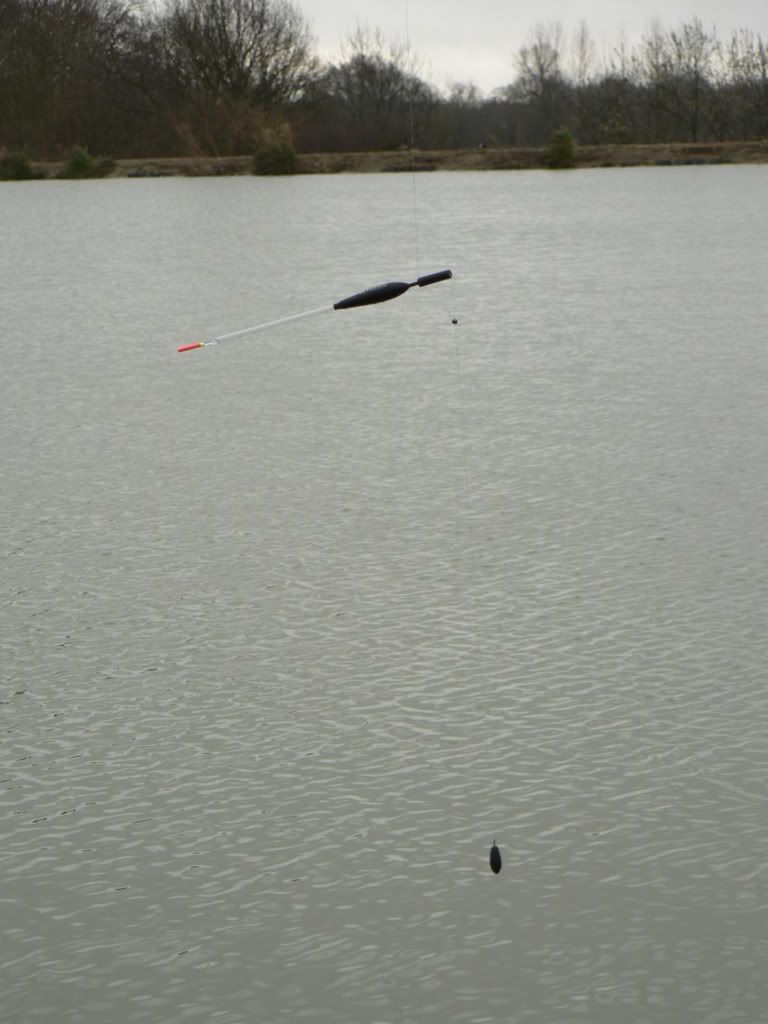 There was about twelve or so feet the twenty-five metres out and I set the depth at three-quarters of this so I was in effect fishing at nine feet with the John Wilson rigged at thirteen feet. I deliberately chose not to fish at full depth as I knew my constant feeding regime would bring the fish up in the water and I also suspected that with the water temperature rising after a very cold snap, they wouldn't be on the bottom anyway.
My target fish were carp and the aim of the session was to reproduce catches I had made in previous winters fishing on the reservoir, I had however anticipated the presence of the Roach but was shocked at how they have now come to so dominate the fishery for it was wall-to-wall Roach all day long with no other species putting in an appearance during the whole of the day.
I began catching from the very first cast and it was one-a-chuck for virtually the whole time.
I was prepared for this and was determined to stick it out in the belief that the feeding activities of the Roach would eventually arouse interest from the carp and I would pick up the odd one or two at intervals. This was not to be; small perishers of sixteen to the pound eagerly seized upon my double red maggots for the first couple of hours. The fishing however was not as easy as it sounds though as I had to work quite hard at the feeding, at range, in a difficult cross-wind. Gradually though, the size of the fish increased as the day wore on and I eventually got into quite a rhythm of casting, striking, winding-in, unhooking and re-casting.
The reservoir is not what it was however and the anticipated carp just did not arrive. Without a doubt, the place is now a Roach fishery and is catching up Longshawe Farm for the quality of fish it produces. It always did have a reputation for the improving quality of its Roach fishing and it has certainly come a long way since I first fished there. I haven't fished it in the summer so I don't know what it is like then, but I would say it's not worth fishing it for the carp in the winter now as I used.
I had a change at lunchtime and went on the maggot feeder on the bottom to see whether there were any carp there – I fished ten maggots on a size fourteen hook, but apart from one roach I had absolutely nothing. Zippo. Going back on the waggler I rigged up shallower having previously suffered some line bites. I was up to about four feet now, and immediately the catch rate accelerated. Better fish were coming too – real quality roach, not the little 'bits' one so often gets pestered with on commercial fisheries. It is alleged there are two-pounders in the reservoir; I don't know about that, but it is certainly possible to have a day of quality roach fishing here now.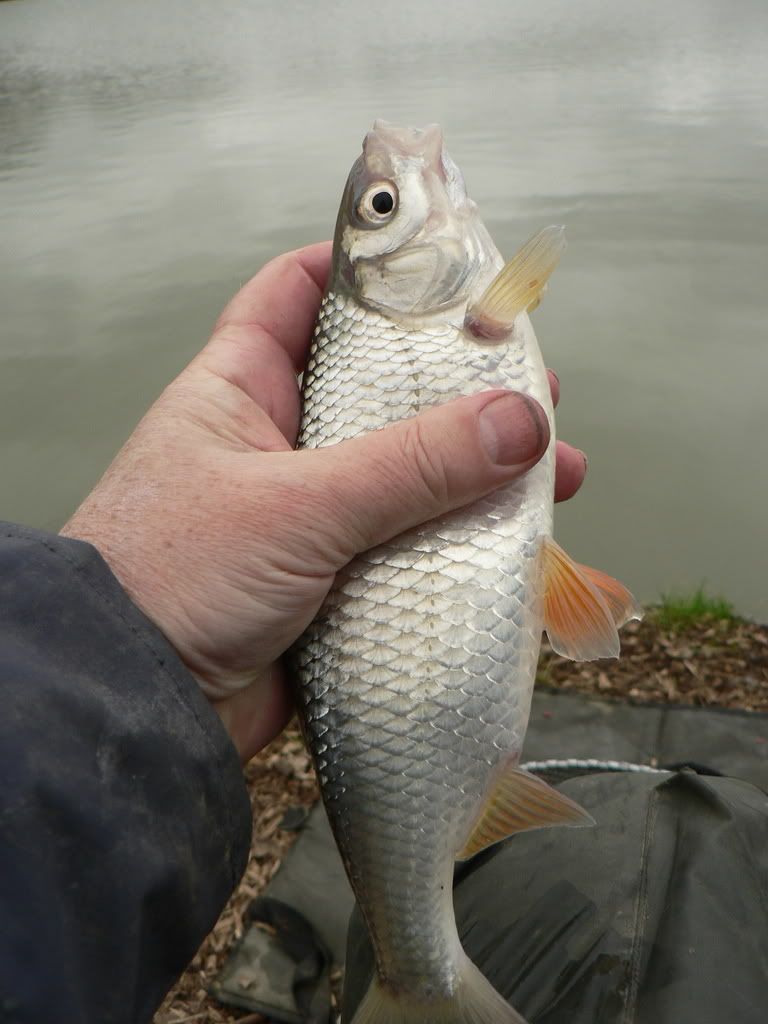 In the afternoon I decided to take things really easy and just dropped the rig under the rod-tip, feeding with the remainder of my maggots. The peg must have been stiff with fish right across as there was no let-up in the catch rate, indeed, the size of the fish increased and I got these (and other) beauties. Had I been able to put them in a keep-net it would have made a very impressive catch but as it was they had to go straight back.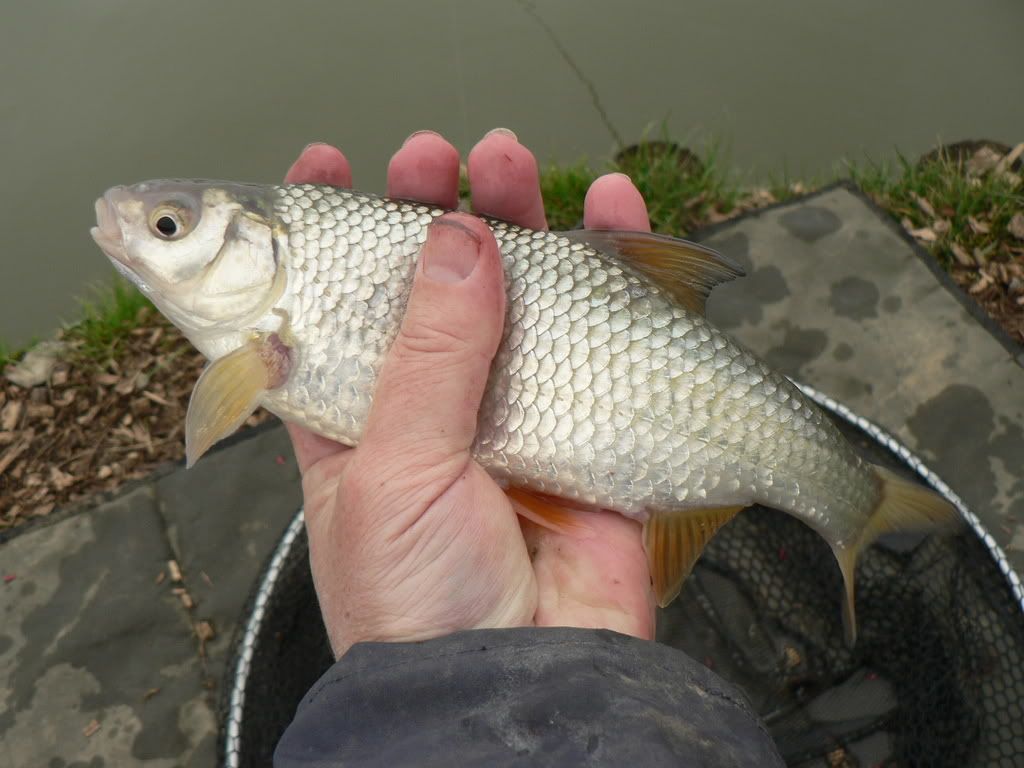 Right at the very last however, the float buried and I became attached to a carp. Only a small one though but it did put up a spirited resistance to finish off the session nicely.
So what of Hartleylands Reservoir?
I hear there are plans to syndicate it as (I presume) it doesn't make enough money at the moment. I gather day tickets are going up to £10 a day which is still a reasonable charge for this neck of the woods. I hope however, the owners reverse the decision to abandon day-tickets for syndication is in my view is doomed to failure. They did exactly the same thing at Longshaw Farm near Canterbury and reverted back to day tickets within a year.
In my view, the fishing and the lake is just not worth the price of a syndicate fee (which is bound to be high); why would anyone want to pay with so many other excellent venues from which to choose at a manageable cost by pay-on-the-day.
I suspect the owners of fishing assets have (wrongly) got the idea that syndication is the answer to revenue – and well it might be, on paper. The problem is, you have to find enough members willing to pay the needfully high cost to join – which in Hartleylands Reservoir's case I believe could not be justified. Anglers will pay for exclusivity – but not any old venue, and there has to be a very good incentive to join, either big fish, beautiful surroundings, isolation, or cost.
In my view, although I like the place a lot – it has none of these.
I hope they will stick to the day tickets; it'll be the best policy in the long term.