My long-awaited trip to the River in Picardy. Phil and I have been wanting to get back and have another go, for ages, but with Phil at
The World Carp Classic
, this was a solo trip. Big fish were in the offing; we'd had a high average size during the last trip and both of use expected to get a real 'lump' before too long. As ever, I recorded everything in my journal.

[journal]
5.30 a.m
I have just got back from the 'Boutique' to get my wine for the session – a bottle of 'vin rouge' to go with my meals. The ferry is relatively quiet with few crossing at this hour.

This is a solo trip, my regular buddy Phil away at The World Carp Classic at Lac Madine. He is fishing with his good friend Chris (Lev) Levington and thus far they are fishless, although several fish have been caught including a 56 so far. There is still time yet for him to break his duck and catch his first ever fish during one of these contests – although talking to Phil he doesn't see it as a competition – more an opportunity to meet fellow carp anglers from all over the world.

There is the usual mixture of excitement and trepidation – 'what if something goes wrong and I cannot deal with it on my own?' I try to put these negative thoughts to the back of my mind and concentrate on my Mission Plan for as ever, the trip has been planned with all the efficiency of a military operation…….

The first job is to navigate down to the 'Target Zone' – the section of river in Picardy which yielded such promising results last time back in April. The next aim is to get onto the PA (Point of Access) – the place where I can leave the car and get to the swim (which I had previously identified using Google Satellite Imaging.

3.00 p.m
All four rods are out – 2 single baits downstream and 2 double baits upstream, the first lot of feed is in and the kettle is on for the first cup of tea.


The SatNav got me to the PA ok but I found that access was 100 yards across a ploughed field! Although the satellite imaging had been accurate, it hadn't shown of course what conditions were like on the ground and considering the huge amount of kit that needed to be transported to and fro, this was unfortunately a no-no; I plumped for exactly the same swim I fished back in April as I felt I could do very well from there.

The local Police have just dropped by although they didn't bother to get out of their 4 x 4 as it is raining; they just came to have a look-see and then buggered off.

The rain got harder and harder the nearer I approached the 'Target Zone' and was coming down in 'stair-rods' by the time I arrived at the river. My preferred swim is on the far side of the river so I have had to take quite a circuitous route to get there which of course proved fruitless and involved a detour of several miles to get to where I wanted to go.

There is a very serious issue to contend with which Phil pointed out last time we were here, namely the extreme shallowness of the water in front of the swim. In fact it is so shallow I cannot see how a fish can be landed without going in after it – which is possible – but probably inadvisable. I have the waders with me and I need to make a plan as to how to don them and get out to a fish; doesn't seem impossible however. We shall have to see how we get on.

7.30 p.m.
More bait into the swim and I am starting to build it nicely; I've even had one or two Breamy enquiries so that's encouraging. Since I don't expect to catch a carp until the third or fourth night, anything between now and then is a bonus as although the rain has stopped for now, there is a vicious wind blowing, gusting up and down stream making things horrible. Not confident yet.

Saturday, 6th.September 2008
9.00 a.m.
It was Bream City here last night with one fish after another, all on the Halibut Pellets. I put up with them until about 2.00 a.m. but simply had to get some sleep so pulled in the Halibut Pellet rods. The rods baited with Matrix boilies were untouched which further leads me to suspect they are lacking in attractiveness. Whether the manufacturer is 'cutting' them with cheap ingredients to make them commercially viable I don't know – they certainly don't seem to catch as well as they used. I am glugging the single boily in Bloodworm and Molasses to try and increase their attractiveness.

There are no fish here yet – I have yet to see one at all although I might have heard one during the night.

10.20 a.m.
Although it has stopped raining and the sun has come out, there is still that very strong wind blowing which is keeping temperatures down. I have yet to see a carp although this hasn't dampened my optimism - yet! The regime of regular feeding must be maintained for the scent trail to bring the fish into the swim from downriver and still I do not expect anything to happen at least until tomorrow.

11.00 a.m.
Just been looking closely in the margins in front of me and I have to say it is desperately shallow. I would go as far as saying it is at the very limit of where you can safely bring a carp in and return it. Water always looks shallower than what it is because of the for-shortening effect; there is only one way of finding out and that is to try and catch a fish and see. There are no options here other than to move to a completely different location. I tried putting the waders on and going in but sank up to my knees which isn't in itself a problem – but netting a fish and getting it back to the bank with both feet stuck fast with rod in one hand, a landing-net in the other, and a thrashing fish on the end – it ain't happening!

I have decided there is only one viable alternative and that is socks and trousers off and in after it; hopefully I shouldn't have to go out too far to get it.

3.00 p.m.
As it starts to pitter-patter with rain again I pause to reflect on the 'pontoon' I have constructed which I hope might just give me another couple of feet out from the bank.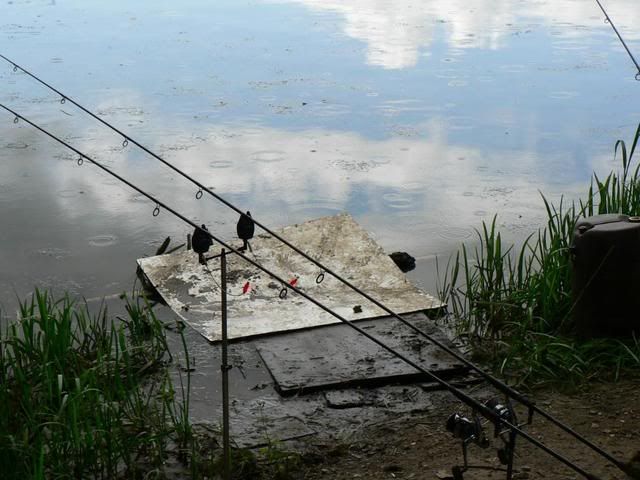 All manner of flotsam and jetsom line the banks of the river and I managed to salvage enough materials to build something which might help. I've also taken a shower using the solar 'Camp Shower' which although does not provide piping hot water, at least takes the chill off the cold. There has been little sunshine and it's to its credit it 'warmed' the water as much as it did.

I feel wonderful! Having showered, washed my hair, cleaned my teeth, and shaved, I feel really invigorated. It is amazing the effect such cleansing has – it is quite symbolic too – a kind of washing away the previous unsuccessful hours and lack of action.

I still feel they will come eventually.

4.00 p.m
All four rods recast. This time I have short, stiff rigs on the single bait downstream offerings; these are accompanied by pva 'socks' of goodies. The double-bait upstream rods are the long, flexi-rigs with no socks. Between the four of them there must be something the carp like. That's if there are any there. They are still not anticipated to arrive until tomorrow.

The Session Wine Choice
This is a Sauvion, Saumur-Champigny (red) costing £4.00 from the ferry shop. Very nice. Recommended. Went well with the beef mince, rice, onion, and pepper 'thing' I created last night. Tonight it's chicken pasta so we'll see how it goes with that.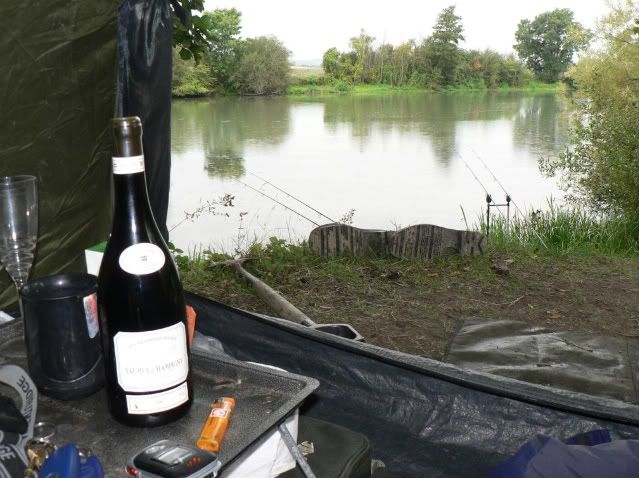 7.00 p.m.
The wine proved an excellent accompaniment………………………………………… in the middle of writing this, the l.h. downstream rod is away! This proved to be a small skinny common of 11:04 to the single pellet and short, stiff, rig. Fish landed without too much trouble although it did get stuck on the 'ridge' – where the bottom shelves off into the deeper water. Best make up some more of those rigs!

Sunday, 7th.September 2008
12 Noon
A pretty amazing and drastic turn of events last night as the lateness of the journal entry shows.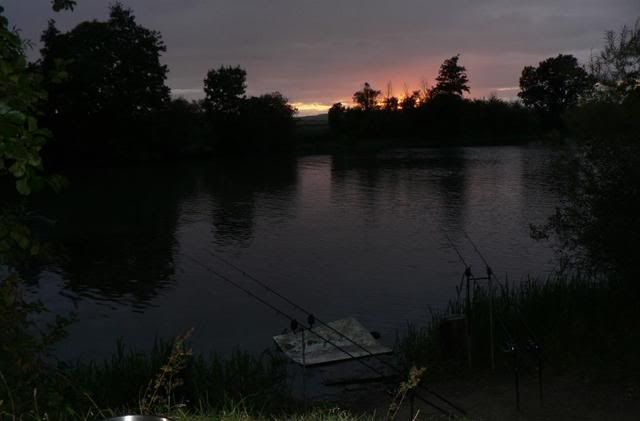 Once again, the weather was horrible, with intermittent rain showers and really gusty winds, in fact I have never known the wind blow so hard in France – branches were coming down off the trees – the lot!

I continued the regime of baiting and put out single baits on all four rods; each rod was accompanied by a pva 'sock' and all hooklengths were short lengths of 20 lbs. Korda 'Hybrid'. It didn't take long for the Bream to start and once again my swim became 'Bream City' with the bobbins dancing up and down like yo-yos! I was really starting to get fed up with the perishers – curiously, all on one rod – the left-hand upstream rod baited with single pellet. Oh how Bream love pellets! Once again I withdrew this offering as I was getting pretty fed up with going up and down the steep bank, all the time attending to the snot-ridden things! Big Bream I like; smaller 'skimmers – ugh!

At last I was able to settle down and get some sleep although it was little more than dozing, so hard was the wind blowing, the bivvy sides were rattling, kicking up a fair old racket. I must have been half-in and half-out of sleep when I became aware of the drone of one of the buzzers. Stumbling about, I managed to find my bivvy slippers and negotiate my way down the little steps I had cut into the bank to make the descent safer. One of the boily rods was away and in no time at all there was the satisfying lunge of a big carp on the end. I was happy to let it go and yielded line before imposing myself on the fish which was threatening to get far too big for its boots!

The fight was a fairly standard affair – it made it into weed once or twice but was no match for the 'big guns' I had brought with me – 3 lbs. TC Harrison Ballistas and 30 lbs. Berkeley 'Fireline' braid, ideal for cutting through weed and lilies. There was a certain amount of trepidation however, bringing the fish over the ridge and through the shallows. I knew this would be problematic but the 'pontoon' made all the difference and I was finally able to scoop out a fine looking common.


This fish turned scales at 24:12 and was a very pleasing result after what felt like a lot of hard graft. A quick photograph and it was back in the water – and it was here that the problems started. There wasn't water deep enough to cover its back and despite pushing it out as far as I could with the landing-net handle, it just lay there, upright, and unmoving in the dark.

I quickly donned the waders and entered the water at the margins – and just as quickly retreated. I sank in up to my knees and test-probing with the landing-net handle revealed it was just as bad further out. What to do?

Back at home I had made a solemn promise to Christine that I would not do anything unsafe – safety first at all times. Whilst I deeply regretted the circumstances of the now stranded fish, I was adamant that risking my own safety was not an option. I could do nothing except hope it managed to find its way into deeper water and home. I must say, I did not anticipate the returning of a fish would be a problem – rather, getting it into the net had been my one and only concern.

I there and then resolved to abandon the fishing from this swim and reeled in all four rods; I just could not risk this sort of thing happening again. In the morning I would move to another part of the river and use the rest of the trip as a scouting mission, exploring other locations.

I was up and about at first light, packing all the kit away into the car. The good news was that the fish was now gone – it had managed to get itself off the shallows and away.............phew! was I relieved?!

A quick look at the map and I decided to investigate the north side of the island, about a kilometre away from where I was at the moment.
....................................................................................................
Much of the river valley is given over to sand and gravel extraction. The many barges that ply up and down, carry this material to where it (presumably) is distributed all over France. One of the unfortunate aspects of these activities is the extensive riverside works which are an unsightly intrusion into an otherwise beautiful river. I did however, mange to find a very 'tasty' looking spot down at the river's edge with only just enough (and no more) room to set up the rods and all my paraphernalia.


With baits out (an underam lob distance) I sat back and watched the huge barges throwing up their immense wash as they went up and down in front of me.

What of the prospects? My intention as always is to use the same strategy that has proved so successful in the past – setting up a scent trail and drawing the fish up to the swim. The only drawback to this is that time is required and I have only two nights left to do this. Will this time be sufficient?

3.15 p.m.
There is a curious bright yellow object in the sky; rumour has it, it's called The Sun! It is the first I have seen of it this trip!

My current GPS:
N **.*****
E *.*****

4.30 p.m.
Everything has gone lovely and quiet. No boats are running, no-one is about save the very occasional dog-walker, there is no traffic or industrial noise. It is very peaceful.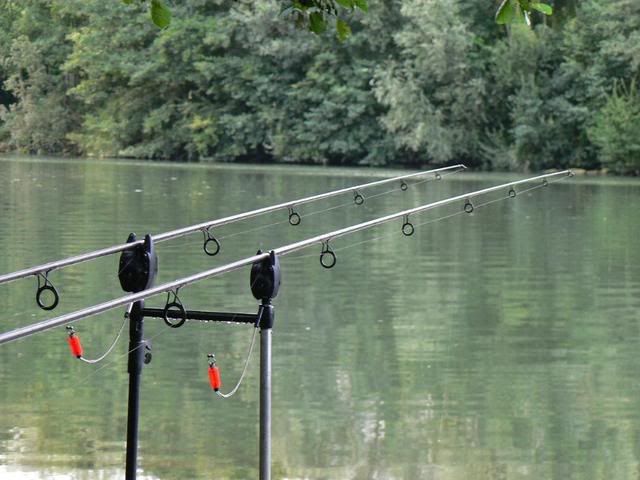 Despite very heavy leads, there is still a strong current and I am having trouble holding bottom here. The water is very deep – 15 ft. plus I should think, although this I deem, is a good thing. I saw one or two fish topping earlier (not carp but it seems as if they have stopped now.

8.00 p.m.
Another bombardment of bait to try and get the fish up to the swim. On recasting the rods, I found that the pellets were missing; is this due to them 'washing away'? or are there 'Ronnies and Reggies' in the river? I couldn't see any sign of their usual scrapings on the boilies however. There doesn't seem much point in leaving pellets out for long periods of time.

Still getting rain showers. The weather has been bloody awful this trip.

Monday, 8th.September 2008
9.00 a.m.
The evening started off with the usual high winds and squally showers, but later cleared to leave a fine, still, and chilly, night.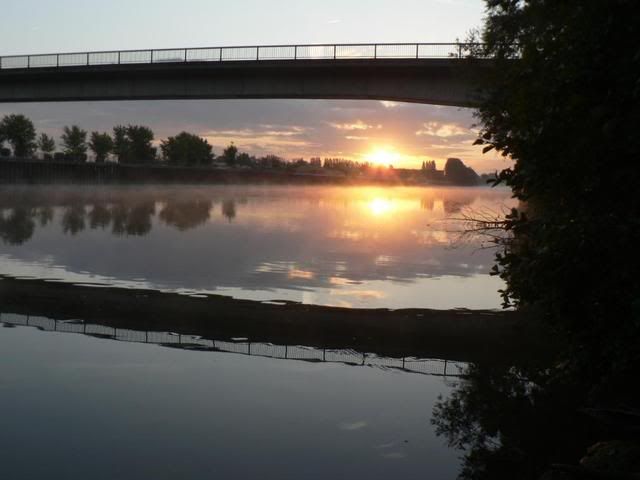 I had seen one or two carp in the early evening but as it got dark this activity intensified. Swirling and leaping could be heard in the dark – exciting stuff!
There were lots of yo-yo bites to all rods early on; a succession of Breams were hooked – and duly returned when all of a sudden, the bites ceased. There was a brief pause, and then a screaming take ensued to one of the downstream rods! I was on it immediately and hooked into a fish which tore off downstream. It felt a good fish and I let it go, slackening the clutch to avoid a hook-pull.

This really was a lively fish which was up and down the river like a mad thing! – it felt almost demented in its desire to free itself from its tether, but eventually I slipped the net under a long, lean common which weighed 15:10 but which looked as if it should have been a lot more.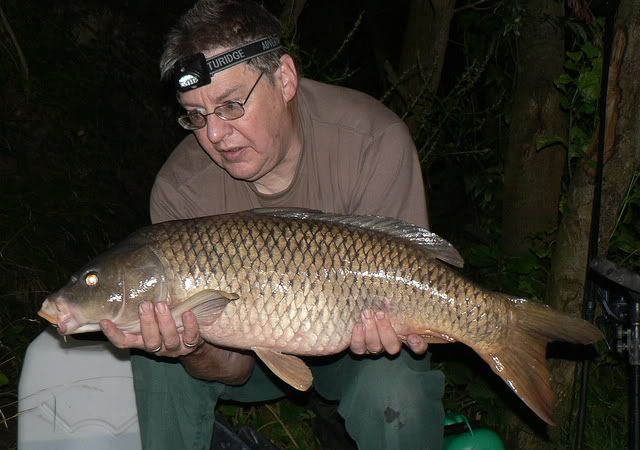 This was a real result for me as it made all the effort in relocating to the other side of the island worthwhile; I felt really pleased with myself and rebaited all three of the remaining rods. I decided that four were too many for such a confined swim – three adequately covered my baited area and also gave me more room to land fish, as well as move about.

As I lay in my sleeping-bag, I could hear the sounds of the occasional carp rolling or splashing out in the river. Once again, I couldn't say whether I was awake, dozing, dreaming, or asleep – but I heard two distinct, seperate bleeps of the buzzer, followed by a screaming 'one-toner'. Without being aware of how, I found myself standing in the dark hanging on to a fish which was absolutely roaring off! This fish really got a trot on and I should think it took a good thirty-forty yards of line against the clutch.

Eventually it slowed and I managed to regain much of what had been lost – but then it set off again on another run – this time upstream and I just had to let it go. Eventually, after slowing it down and regaining some line and then further negotiating runs across the river I eventually netted an absolute peach of a common.


This fish weighed 25:09 and was one of the 'chunkiest' commons I have ever caught. Not fat, or particularly deep-gutted – just solid as a rock, a veritable Arnold Swartzenegger of a fish – total muscle!

Happy days. Or in this case – night!

11.00 a.m.
Just done some sums and the average size of fish caught so far this session is 19.3 lbs. Proving once again that this location has a better than average weight than those at ********. It seems that when you get a twenty they are 24 or 25 pounds – whereas at **********they are 21 or 22; plus, there are always a lot of small fish at ********(single figures).

I have changed the rig on the downstream rod – it's a short, stiff, rig but I have tied a Dacron Hair to the hook and knotless-knotted the coated braid to the hook. This way there is no 'joint' between the hook and the stiff braid although the Dacron braid allows the bait to behave naturally.


1.00 p.m.
An old character has turned up and is fishing the far bank. He appears to be using three, light, telescopic rods, baited with what seem to be sprats. There seems to be no form of bite indication, the rods have been laid down at the water's edge where presumably the rod-tips will go or one of the rods will end up in the river! I wonder what he is fishing for? Pike? Eels? They eat what they catch over here so it could be either.

Three EDF vans have turned up and are parked in the car park behind me. The workers obviously know one another as this is obviously their lunchtime trysting-place – it is a typical Gallic scene however. Out came the bottles of wine and the baguettes. Very civilized.

2.00 p.m.
Not a single, solitary piece of action have I had all day – even the Bream have had enough, though I suspect they will return this evening.

More bait has gone in and I have just enough left for a final baiting this evening. Rationing the resources has proved very efficient. One thing that has been a success is catapulting out the 18 mm. Boilies with the ESP 'Particle' Catapult. Up to a dozen at a time, landing in small groups gives a very good distribution. Better than putting them out in one's and two's and taking all day at it. Will adopt this mode again.

Fishing the French rivers really is an absolute joy. It enables you to blend in and become a part of what is a wild environment, the environment in which the quarry live. These are no commercially reared, fed, fish, designer-contrived to be the maximum weight possible, but pure, unadulterated wild creatures whose domain is the wild river in which they live.

I am tempted to say that size doesn't matter with these fish such is their allure; it is a fact however that a wild thirty from a wild river far, far outstrips their equal from a commercial venue. This is not to demean the commercial fish because they have an inherent pleasure-providing value. It's just that these wild river fish possess a Quality that puts them at a completely different level. The numbers that just happen to be their weight are just that – numbers. It is not the numbers that are the value of these fish, but they take on the environment and its purity which is as much a part of them as it is the river in which they dwell. I just love them.

3.30 p.m.
I think it was the insistent flies continually settling on me which suggested I probably needed to take a shower! Up to now I had not had the opportunity to test the 'Camp Shower' properly – there being so little sunshine on these French trips over the past couple of years, but today had been such a glorious day it was an ideal opportunity.

I put some water in the bag at about nine this morning and left it flat on the ground in the sun to heat up. Even given that the sun has gone behind the clouds for much of the time, I was delighted to find the water pleasantly warm – not hot, but decidedly warm. A roaring success. Thus invigorated it was time to start thinking about collecting all non-essential items together and putting them in the car ready for a prompt departure tomorrow morning, an unpleasant if essential task. Don't want to be late for the ferry. [Note - I was!]

4.00 p.m.
Another old gent has turned up and has gone to fish under the bridge with a livebait and huge orange 'cigar' float. Bless him; I've seen five-year-olds make a better fists of things. Still, I hope he enjoys his fishing......... whoops, as I am writing I see he has taken a tumble down the bank. He seems to be o.k. though and is upright. For a minute I thought I might have to do my 'entente cordiale' thing and go and lend a hand.

Some time later I see him running down the bank to his rod and strike – he is attached! Presently, a friend materialises out of no-where and puts together his landing-net which he has left up at his car. In short order, a large fish is landed – and what a fish!


This looks (through the binoculars) to be all of 8-10 lbs. I can't see what it is but I guess it's a Pike; zooming the digital image on the camera however it looks more like a freshwater Bass (?) I didn't even know there were any in the river – although a closer examination shows it's probably a Zander. Whatever it was it receives several lusty blows to its head with a short length of steel pipe! It is then wrapped in a towel, and put in the back of the car!

Tea tonight apparently!

6.00 p.m.
There is a sudden mad flurry of activity out on the river as one huge barge after another comes chugging through.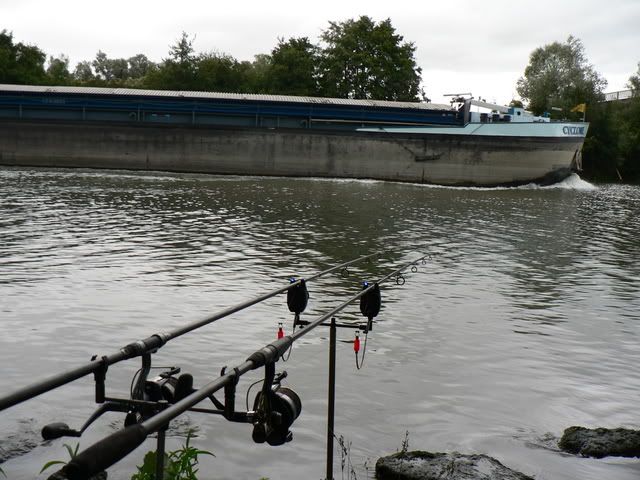 The tsunamis they send up are massive as first the river is sucked down revealing the bottom – then comes surging back in with tidal waves swamping the banks. I cannot imagine the huge forces at work here, but the immense wall of water being driven in front of the bows of some of these craft is testament to the astronomical numbers which must be involved.

Four or five went through, one after another, each time the bobbins were set going nineteen to the dozen, the buzzers bleeping hysterically in accompaniment. The extreme upstream rod was doing a right merry dance – different to the other two – so I lifted into it on the off-chance. There was something on the end! This was in the form of a 7:08 Barbel, fairly hooked in the mouth.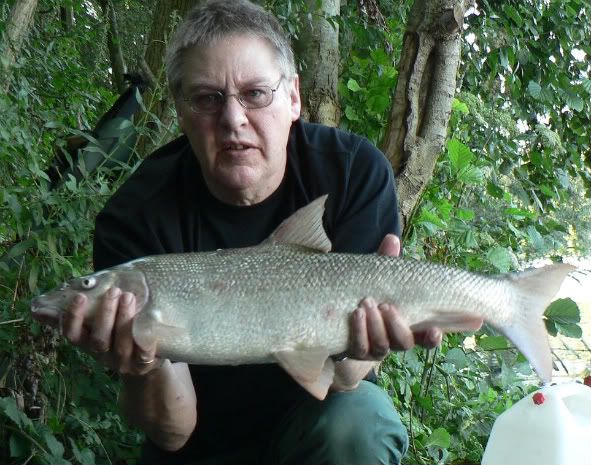 Setting a new pb for me I returned it after a hastily taken snap.

Now the question is "does it count?" i wasn't fishing deliberately for them so I cannot claim any merit in the capture. As a Barbel it was a modest one, but supposing it had been of record-breaking size? (in actual fact it did break a record – my own!) Now there's one for the philosophers. I shall 'count' it anyway.

This fish did not like being out of the water and I held it in the current for quite a long time before I let it go and I wasn't entirely happy about its welfare when it went. Seems Barbel are not as robust as other species when it comes to hanging about on the bank waiting to have their photo's taken.

8.00 p.m.
It seems very quiet out on the river now – I haven't seen or heard from a fish for ages. I'm just anxious that last night's action was a one-off. I don't think I've over-baited; most of it will be well on its way to the English Channel by now anyway. Can't help wondering though.

Tuesday, 9th.September 2008
On the ferry home
After the Barbel went back, I busied myself with attending to several preparations for the journey home tomorrow. All non-essential kit was taken back to the car and I made sure the Ferry Terminal was programmed into the SatNav.

I always find this final night's fishing an odd affair. On the one hand, it can be the culmination of all the hard work done throughout the trip and often yields the best results of the whole session. On the other, I am always missing Christine and know how anxious she gets for my safety; I was really looking forward to seeing her.
It was a lovely evening, the golden rays of the setting sun illuminating the banks of each side of the river in a gorgeous, warm, glow. The temperature however was dropping and it felt decidedly chilly. Fish however began to move as soon as it got dark and it seemed as if some bizarre switch had been thrown – the river suddenly became alive with fish! Carp, and other silver fish species suddenly all joined in a spectacular display of rolling, leaping, and swishing in the darkness. The last of the barges had been through of course and maybe this was the preferred time to feed – when boat traffic had ceased.

As if on cue, the Bream began their activities again, 'yo-yo-ing' the bobbins up and down like demented Jack-in-the-Boxes! The year class I was catching were the same size as at the previous location – slightly smaller than those Phil and I had caught back in the Spring. There must be a very high density of Bream in this section of river for they were proving to be a confounded nuisance. Future trips must allow for this and bait-wise I'll probably bring extra large 'donkey-chokers' to avoid them.

I caught a couple of these nuisances, quickly dispatching them back into the water, wondering whether all the feed I had put in had done the little more than attract them and hold them, in which case, they could bloody well clear off!

At this point I started to get very fast, jerky sort of bites, some of which pulled line from the 'clutch-runner' – much too excitable for Bream! When one finally turned into a full-bloodied take I thought I had hooked into a small carp – the fish fighting like a little terrier, giving numerous rod-jerking wrenches; most un-carp-like (or Bream for that matter). When I slipped the net under the fish and banked it in the darkness I could see it had the glorious silver flanks of another Barbel!

This one was slightly bigger than the first and weighed 8:12, thereby breaking my pb for the second time that evening! Again, did it count though?

Bites were more or less unremitting for most of the early part of the night, the only interruption coming when a series of lifts turned into a proper take resulting in a small common of about 8 lbs. No sooner had this fish been returned to the river than there was yet another series of jerky lifts followed by a 'proper' take. Again, the fish fought in a most un-carp-like way and when I finally netted it, yet another Barbel graced the net – it was even bigger than the previous two and I couldn't contain my astonishment uttering the familiar expletive. When I weighed it, it was dead on 9 lbs. Like the previous fish I didn't take photographs as I didn't want to risk the fish – it went back straight away. I wish Phil had been on hand to do the honours, for it was a great fish.

Further action followed during the night and my plan for getting much needed sleep before the long drive home tomorrow went right out of the window. Three carp picked up my boilies this time, the 'shoal' of Barbel seemingly having buggered off. Fish of 14:12,


19:02,


and 20:00 dead were all weighed and returned to the river in what had been a now very productive night. Curiously, of the eight fish caught during the trip – all were commons; not a mirror or leather amongst them. Perhaps this demonstrates the dominant nature of the gene giving rise to common carp scaling within wild fish spawning naturally in the river.

One final fish was hooked just as I was taking the other rods down; unfortunately, this was lost due to a hook-pull near the net amongst the rocks lining the margins. From what I saw it wasn't a huge fish – although it would have been nice to put another score on the score-sheet.

And so into the car and head for home.....................